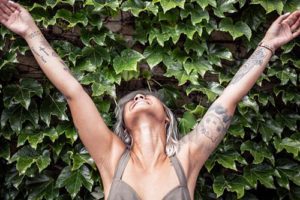 When my daughter Brittany suffered her seizures, she was in the hospital for 5 days. 5 excruciating long days. I couldn't sleep, for fear she would have another seizure. I had moved the hospital chair around so I could directly face her, my body jumping in fear every time her eyes fluttered. At the time, my husband John and I had NO idea the seizures were caused from Xanax withdrawal. We were SO uneducated about this disease! Due to HIPAA, the doctor was not able to tell us that was actually what had occurred. I firmly believe our actions after her release would have been very different, if we had known.
For the next 3 months, her life slowly spiraled out of control again.
She was living with us, but we could see her slowly disappearing again before our eyes. I felt so helpless!! Dark circles under her eyes, becoming very thin, and I would have to remind her to shower. She started going out ALL THE TIME. Coming home at all hours of the night, or not at all. I could barely sleep. When I would hear the garage door open, it was a rush of relief…SHE'S SAFE.
I think I knew in my heart she was using heroin again, but I didn't want to believe it.
Please God, I really can't go through this again. Really, I CAN'T.
At the dinner table one evening, we had all sat down to eat but Brittany still hadn't come out of her room. I went up to check on her. Knocked…no answer. Pounded…no answer. Called her name…no answer. My hand trembling, I opened up her door. There she was, laying on the floor, in the oddest of positions. I saw a needle next to her and it felt like my heart just stopped. THIS IS REAL. THIS IS HAPPENING. My youngest daughter Brooke, who was 10 at the time, yelled out "Mommy, is she coming down for dinner?!". I replied with a small weak voice, "I don't think so honey".
I could see her chest raise up and down, so I knew she was breathing. I sat down next to her and shook her. No response. Bile rising up in my throat, tears stinging my eyes, I shook her again…this time very hard. She stirred, opened her eyes and what I saw scared the living hell out of me. Her beautiful green eyes were now black. Almost clouded over. They closed once again. She was "nodded out". A saying that I finally learned now that we were in this new, unknown world of heroin addiction.
I quickly searched her purse and found more needles and little packets of heroin that were wrapped in keno wrappers. I grabbed them all, went into my bedroom and called for my husband. My hands and body shaking, I couldn't event speak. I just opened my hands and showed him what I found. He said "She has to leave Katie. We can't have this in our house. What if Brooke had walked in and found this!?".
In my heart, I knew he was right. We could not control this situation. We had tried so hard…she was in counseling, seeing an addiction specialist, long talks with us, we had even formed a contract that she had to sign with our house rules and consequences. At this point, she had been in treatment 5 times. She knew what would happen. But the thought of having her not be in my sight anymore, not knowing where she was, if she was OK, if she was eating, showering, not knowing if she was ALIVE, was just so overwhelming. How, as parents, do you say "You can't live here anymore"?? She needed HELP, not the streets!
I slowly walked back to Brittany's bedroom. She was stirring now and starting to come out of her heroin fog. I just sat down next to her and cried. I cried so hard I could barely catch my breath. I hugged her and told her how much I loved her. I saw recognition in her eyes that she now realized that she couldn't hide her addiction anymore. She then started sobbing too.
Lowering her head, she leaned in to hug me and just said "I'm so sorry Mom. I don't want to be this way. I just don't know how to stop".