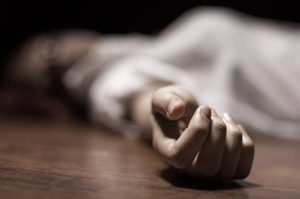 After we discovered my daughter Brittany was using heroin again, we had some hard choices to make. We knew she couldn't live in our home anymore. After all, we also had a 10-year-old daughter, we had made family rules about consequences and I had to keep our home a safe haven. But the thought of having her not in my sight anymore, doing Lord knows what, not knowing where she was sleeping, or even if she was ALIVE, terrified me to the bone.
Then I heard about this amazing new shot called Vivitrol. Vivitrol is a monthly injection that can prevent opioid cravings. I thought "Praise God!!!" It's the miracle we've been waiting for!!! She had been seeing an addiction specialist and he highly recommended it. While we were in the office, he had drug tested her. It came back with high levels of heroin, Xanax and marijuana in her system.
At this point she was down to 112 lbs.
In order to administer the shot, you need to be opiate free for 7-10 days. Doc was scared Brittany wouldn't make it that long. He suggested giving her half of a dose…that she would go into immediate withdrawal, but he was trying to save her life. Brittany wanted nothing to do with it. In fact, she pretty much told the Doc to go to hell, stormed out, and started walking down the street.
He then ran after her. I thought, "I love this doctor!!". He cared so much…he would ream her a new one, but then give her a hug and tell her he was there for her. He was exactly what she needed. Someone that didn't fall for her BS. I walked outside and saw them sitting on a parking block, talking. This man, this incredible doctor, truly cared. I had such high hopes!
She ended up getting the dose that day. She went into IMMEDIATE withdrawals…right on the way home. She was horribly sick and in bed for the next 5 days. I mean BAD. Vomiting, shaking, sweating, sicker than I had ever seen her before. I kept a close watch on her, in case she needed medical attention, pretty much never leaving her side.
In my head I thought, "she will never want to be this sick again…this shot is going to save her life!".
On day 6, I was working in the living room, when she came out of her room. "Bye mom, going to hang out with friends". WHAT?! I knew what that meant. "Brittany, please don't go, please let's get you into treatment!". My words were fruitless.
She walked out.
3 days went by with no word from her. I had no idea where she was, what she was doing, is she ALIVE?! I couldn't sleep, my heart in my throat with fear, jumping at every little sound.
Then she finally called. "Mom, I need help. I'm ready to go to rehab". I asked her where she had been sleeping…she didn't remember. While I'm in my cozy bed at home, I had visions of my daughter walking the streets of Detroit. How as a mother, can we not worry!? I had a treatment center all lined up for her in Florida. All she had to do was make the call for intake. She agreed, she would call right away.
But she didn't.
Instead she went and bought heroin, cocaine, and Xanax.
She texted me how sorry she was. "Please tell Dad and Brooke I love them. I just can't do this anymore." I knew what she meant….
She was going to kill herself.
And had the drugs to do it. She was ashamed, embarrassed, tired of disappointing everyone. Tired of disappointing herself.
Frantic, I kept calling her. No answer, no answer, no answer. I had no idea where she was or how I could even find her. I called all of her friends in a panic trying to find her. I finally got word she was at a bank, in the bathroom.
Urgently, I called 911. I told them my daughter was trying to commit suicide and had drugs on her. I knew the risk…she may be arrested. But I also knew what would happen if I didn't call.
I was trying to save her life!
They took her to the ER. I raced there and when I arrived, she was tucked in the corner of a hallway, with no one treating her.
She was unconscious.
Time went by, no one came. I was seriously starting to freak out. I yelled for a doctor. "She's on vivitrol!!!". They took one look at her and sprang into action. "She's overdosing right now, administer narcan!"
I couldn't breathe.
It only took a few minutes, but when she came to, she was mad. Really angry. "Mom, I wanted to die! Just leave me alone!".
I then signed a petition to have her on suicide watch and admitted into a psychiatric facility. 4 days later, Brittany was on a plane to a substance abuse facility in Florida.
And I could finally breathe again. Or so I thought….