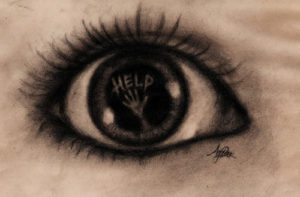 I remember one night, when Brittany lived at home, that she came home in the middle of the night, totally messed up out of her mind. Biscuit our dog was barking, Brittany was loud and talking to herself, so we woke up, along with my youngest daughter.
"Mommy, what is wrong with Mimi"? (She called her Mimi since a baby, when couldn't pronounce Brittany…and it just stuck). 10 year old Brooke had gotten out of bed and came into our bedroom.
I got out of bed to check on Brittany. I saw her in the kitchen, banging pots and pans around, ice cream dripping out of the side of her mouth, with the heroin induced nod and sway going on.
"What the hell are you looking at it", she barked at me. Quietly, I just backed away. Tears stinging my eyes, my heart skipping a beat, scared of what could happen. We walked on eggshells when Brittany was home, never knowing what would set her off in a rage. I didn't want to say anything to her as it may ensue an argument. I needed to protect my youngest from seeing all of this.
I went and got my purse and all of the car keys and brought them back in the bedroom with me. When I came in there, my husband saw the look on my face and just knew.
She was high again.
I shut the bedroom door and locked it. I then hid my purse and the car keys under my pillow. I was so scared she would try and take off and drive in that condition. I also needed to hide my money and credit cards.
Now, my husband, myself, our youngest Brooke and our dog Biscuit, were all in the bed together. John and I looked at each other with worry and anger. Here we are, in our own home, locking ourselves in the bedroom! This isn't fair!
We are good people, we thought we were good parents, how did this happen?
I stayed up all night that night. So worried she may use again and overdose, worried she may leave, worried she may hurt herself, worried she may kick our bedroom door open, just WORRIED about EVERYTHING.
We felt like prisoners…we couldn't go on vacation, for fear something would happen with her or the house while we were gone. We never wanted to leave her alone, in fear dealers may come to the house and know where we live. My youngest couldn't have friends over, as we never knew how Brittany would be.
Our safe haven was no longer safe….and I needed to do something about it. But what?
Being the mom of an addict tears your heart apart.
So I just prayed…and prayed….and prayed….
If you or a loved one is struggling, we have resources that can help.  Please don't hesitate to reach out, we are in this together.
Katie@amothersaddictionjourney.com