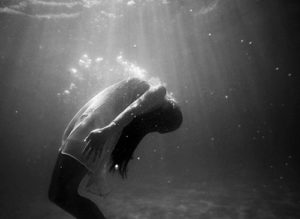 At the age of 19, Brittany was now almost 2 years into her heroin addiction, homeless and back living in a drug house in Detroit. I lived in fear every single moment. Days would go by and I wouldn't hear from her. I found myself driving all over, trying to find her, not knowing if she was dead or alive. I felt very alone. NO ONE knew about her addiction, except for 2 close friends of mine, my mom and my brother. And even then, they didn't know all of the details. We hid it from everyone. I found myself making excuses of why she wasn't at family events or going to college. There's an enormous stigma with addiction, especially heroin. People are quick to judge and when its something so taboo, you just DON'T TALK ABOUT IT.
In August of 2010, Brittany was ready to try again. This time, she wanted to get out of Michigan. "I can't get clean here mom and I'm so scared I'm going to die". Once again, I dove into action. 2 weeks later, we were on a plane, headed to Southern California. She was going to live in a sober living house, 2 blocks from the beach and it was managed by the former drummer of the band Smash Mouth, who was in recovery himself. The house was beautiful, she snagged a job at Starbucks, her mornings spent serving Grande Latte's and her afternoons on Laguna Beach. Happy and full of hope again, she seemed to be back on track. We flew out and surprised her for Thanksgiving and she looked so good! She put weight back on, her eyes clear and sparkly and my heart melted to have my family together again. I remember flying back home, after that trip, my husband, our 7 yr old and I, sitting in a row together, and we all held hands, tears in our eyes, with relief and new hope of the future.
Then she relapsed.
2 days before Christmas, she got kicked out of her sober living house. A roommate had snuck in black tar heroin and well, that was it. Here we go again.
Now homeless, she called me crying, she's on the streets, its Christmas eve and I am 2000 miles away. I am ANGRY. So mad!! How could this happen again?! How much money have we spent paying for her to be out there, rent, groceries, helping her, just for her to do this again! Are you even trying!!!
She's so sorry, feeling so guilty and ashamed. Against my better judgement, I paid for a hotel room for her. It was Christmas and honestly, I was so lost myself, I just didn't know what to do. How do you leave your child on the street? Looking back, I realize how much I was actually enabling her. Every time she fell, I was there to pick up the pieces. I had shipped presents out to her that had just arrived a few days prior to her relapse, so that Christmas, we opened up presents via Face Time. I remember her sad face, her eyes clouded with addiction, sitting on a hotel bed, opening gifts as we watched with fake smiles, hearts broken, stomach in knots. NOW WHAT.
She had met a boy in California…we really liked this kid and he was very supportive of her and trying to help her get clean. He was in the Army and got stationed in Seattle right after the holidays. She wanted to go with him, saying "he is the one mom". Soooooo, I flew out to Seattle, helped her move into an apartment, but SO SO mad at the same time. Why should I keep forking out money to continue to help! My husband was angry, I was angry and it was now causing a lot of tension in our marriage.
For about 1 ½ years, Brittany seemed to be really succeeding in Seattle. She started nursing school, got a great job as a CNA. While things didn't work out with her Army boyfriend, she had met another boy, with a great supportive family. We felt safe with her out there, and now tried to focus on repairing our marriage.
Until she got a 2nd job at a medical marijuana distillery. I had no idea…she told me it was a "smoke shop". I thought she meant cigarettes!! She started smoking pot daily. She was bored, her boyfriend only wanted to play video games all day, and she didn't have any friends out there. She missed us, was so depressed, calling me daily, so incredibly unhappy. I urged her to go see a doctor. She needed to be on her bipolar medication.
Guess what the doctor prescribes her? Xanax. Yes. The very drug that got her started on this roller coaster 2 years ago.
You can imagine what happens next…HERE WE GO AGAIN.