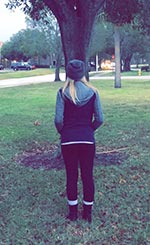 I remember the day.
The air was cool and crisp against my skin; it was spring time in Detroit. I woke up early, maybe 7am – made coffee for the family and started getting ready. At this point I had a routine. Everyday I would get up, go to a 10am meeting, go to the gym then finish my day at work. But this day was different somehow. It was beautiful outside, not a cloud in the sky, the sun was shining and it was warm on my skin. I had the music turned up and the sunroof open. Everything felt so intense – the wind on my hair, the sun against my skin, the cool breeze on my face, the colors of the leaves finally coming back after a long winter.
I went to my meeting as usual. I saw everyone I always see there and they congratulated me on having 5 months. I went to the gym and I was so pumped to get a good workout in. I finished up, went home and then worked from 4-midnight.
I remember locking up the gym when my shift ended. I looked down at the keys in my hand. I immediately started crying, I don't know what came over me but I couldn't control it. Just the thought alone that someone trusted ME, of all people, with keys to their business that they worked so hard for.
I sat there for a few minutes overwhelmed with gratitude. These blessings and promises everyone always talked about were coming true.

For so long, I wasn't even allowed at family gatherings because everyone was afraid I would steal from their purses and coats. My mom would sleep with her purse and car keys under her pillow. My baby sister would hide her piggy bank from me. Anytime anyone knew I was coming over, all valuables got locked up and they counted their money before to make sure the same amount was there once I left. I legitimately frightened people. Whether it was the 85 pound skeleton with no personality that they were looking at or the fact that I would get violent the second someone argued or disagreed with me, my friends and family lived in fear daily for 7 long years.
This was the day that I realized I had changed, I had grown up, I became a strong woman in sobriety. This was the day I began to appreciate the little things – the birds chirping, the stars shining in the darkness. The freedom I found that day is indescribable.
To some, this story may seem small and insignificant. To me, this is the day I realized I had finally taken my life back. It was the day I decided to not live in fear. This was the start of a life I could have never imagined when I was running the streets of Detroit, when I was homeless in 4 different states, putting tens of thousands of dollars into my veins.
The one thing I have prayed for since I was 14 years old was peace and happiness. Real, pure, honest happiness. This was the day I found that.
Brittany Sherfield
You can follow Katie and her daughter Brittany on Facebook @katieandbrittanysaddictionjourney.
If you or someone you love is struggling with addiction, we have resources that can help you. Please don't hesitate to reach out for a confidential heart to heart.
katie@amothersaddictionjourney.com