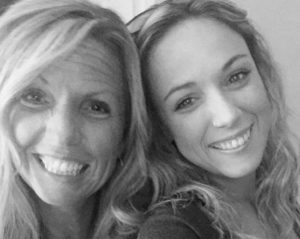 As I'm sitting here on a flight right now to Denver to speak at an event, I'm feeling an enormous mix of emotions.  You see, I haven't written in a while and I miss it so much.  This is my heart, where I can personally find some healing by writing, connect with others in spirit and hopefully, help another person who may read this.
When I first started the blog in April, I was SO nervous.  I had never written before, let alone go PUBLIC with my own crazy life!  I built this website not having a damn clue what I was doing.  Literally.  Googling this, you tubing that, I stumbled and bobbled my way through it and so began my little nugget of love.
When I hit "publish" for the very first time, I sobbed. I was so scared of people reading it….or people NOT reading it.  Insecurities, raw emotion, pain, all came rushing thru at that very moment.
Within 30 days of that first post, over a million people in 146 countries read it. I thought there had to be a mistake.  This doesn't make sense!  But it was true…and it kept growing daily.  I was overwhelmed with emotion, my daughter and I screaming in disbelief, laughing like we were losing it!
The stories people wrote to me, sharing their deepest, most raw pain. Families going thru what I went thru.  Families who have lost loved ones.  Those in recovery, those still struggling.  It was so beautiful. I should rephrase…It IS so beautiful.
Something happened though…during this process, I started becoming very close to them.  I was obsessed, my heart feeling their pain, crying tears right along with them.  And the calls, messages, emails, texts, well they didn't stop coming.  In the morning before I had my coffee, during the evening when I'm at my youngest softball game, weekends while I'm at dinner with my husband, the middle of the night while I'm sleeping.  I couldn't NOT answer, these people NEEDED me!
The more the calls and messages came, the harder I worked, most days getting about 4 hours of sleep.  My house became messy, laundry not done, grocery shopping fell to the wayside.  While I do work full time, I am blessed to be able to work from home.  But still never found the time to go to the gym, lunch with friends, return calls from family.  I was speaking at events all across the US, attending rally's, advocating at court for people, facilitating new projects and I'm also on 2 boards.  I became immersed.
I was forgetting dentist appointments, oil changes and even milk at the store.  My family was getting frustrated with me as I was ALWAYS on the phone…whether talking or messaging with people struggling.  Please let me say that they are VERY supportive and proud of me.  But they saw me drifting away…not listening to what was going on in their lives.  I was physically present, but definitely not mentally.
I started to forget about me.
I stopped practicing self care.
I stopped working on my OWN recovery.
I was addicted to the addict again.
When Brittany struggled, I became obsessed with saving her.  Digging in on research, finding the latest and greatest discovery, calling her consistently throughout the day, checking her social media  to see when the last time she was on, I gained weight, stopped working out and just lost who I was.
And I'm doing it again.
I need to get back to writing, back to the gym, back to creating healthy boundaries so that I can truly function at 100%.  Its very hard for me to do that…when I know people need someone.
I also know I am only one person.
In order for me to put the oxygen mask back on, I need some help.  I know now its OK to reach out…I always kept quiet before. I can't pretend I can handle the thousands of emails that come, the calls and messages.  Its literally impossible.  Any volunteers?  🙂
My goal is to build this website as a total resource for people.  Everything related to addiction, in addition to sending out newsletters,  motivational nuggets, tips for families.   You need it, deserve it and I WILL do this!
Hugs,
Katie
katie@amothersaddictionjourney.com
visit me on Facebook at https://www.facebook.com/katieandbrittanysaddictionjourney